Together We Can Solve The East Valley Housing Crisis
As the cost of housing soars in the East Valley, rising rent has made it nearly impossible for many families and seniors to pay their bills. These struggling families cannot keep up with skyrocketing inflation.
Essential workers, like teachers, fire fighters, nurses and police officers, can't afford to live in the cities where they work hard to make life better.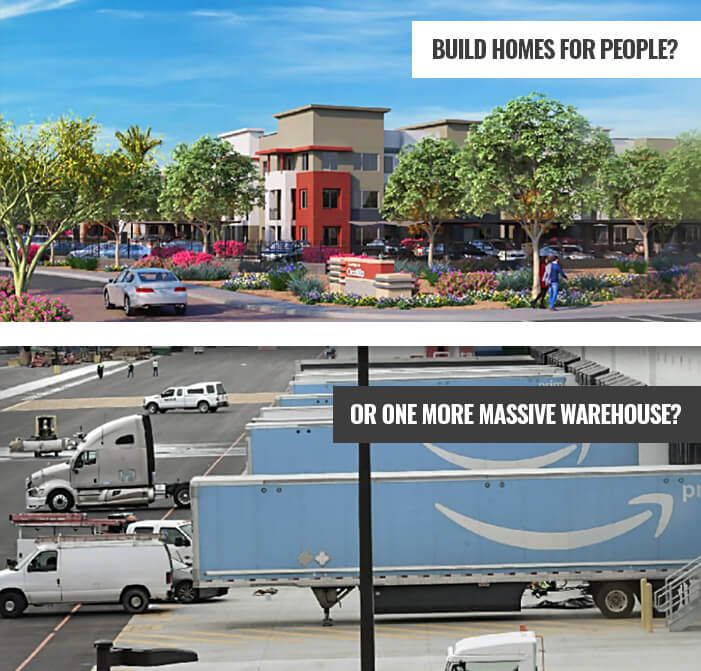 What's the solution?
To bring down the cost of housing, we must build more homes. But too often, East Valley residents screaming "NOT IN MY BACKYARD" pressure local elected officials to kill much-needed, quality new home communities – many times without wanting to even discuss the merits of a proposed development.
Case in point: South Chandler
Case in point: South Chandler, where a group of NIMBYs have launched an aggressive campaign to prevent a new gated community from being built on a 25-acre industrial site near Ocotillo Road and Pinelake Way.
This farmland is currently for sale and will be developed.
The NIMBYs' argument, in a nutshell?
They would rather live beside a 50-foot-tall warehouse with more than 100 truck bays and endless 18-wheeler traffic than a new housing community with 180 new homes for seniors and more than 300 new places to live for Chandler residents and families.
Residents deserve the facts – and would-be residents deserve quality homes.
If you believe neighborhoods like south Chandler need more homes for families, not more warehouses and industrial parks, then let your voice be heard. Sign our petition today. Let your elected leaders know you care about what happens to your neighborhood – and that you support quality homes in neighborhoods like south Chandler.
We support people over big boxes and 18-wheeler traffic. We hope you will sign our petition to the Maricopa County Board of Supervisors today!
Let our elected leaders know that you believe in building more housing so that East Valley families aren't left out in the cold because of inflation and our housing supply crisis. Don't let the angry mob be the only voice heard. Let people know you care about the community by saying 'yes' to more housing.
Get the facts about
what's happening in South Chandler.